Environmentally friendly and safe with district heating
With district heating, energy which may otherwise have been lost is used to heat tens of thousands of homes. It is environmentally friendly, simple and affordable for our customers.
District heating is based on hot water heating up radiators and water in private houses and other buildings. The hot water which heats homes is in turn heated by various fuels, often based on waste products which otherwise would have gone to waste.
It has many advantages as a system, in addition to being environmentally friendly. It is incredibly easy for our customers to use; the system more or less runs itself. It is a stable system you can rely on and, above all, it is affordable.
From the thermal power plant to the radiator
The heat which your radiator gives off originally comes from biofuels that are burned at one of our facilities. Discover how the heat travels from us to you.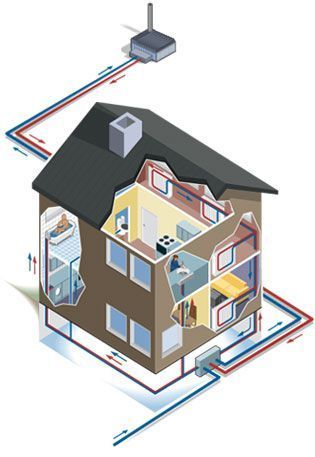 From the district heating plant…
District heating arrives at your property in the form of water which is heated at a central thermal power plant. A large heating facility is efficient and utilises the fuel better than many small individual boilers. We burn biofuels at our facilities which heats water in a closed system. In Skelleftehamn/Ursviken we use waste heat from Rönnskär, energy which would otherwise be lost. In Skellefteå, Malå, Lycksele and Storuman, we produce combined heat and power, i.e., both electricity and district heating. In Skellefteå we also make pellets; everything to ensure that we get as much energy as possible out of the fuel we use.
… to the district heating grid
The heat is transported via a heat exchanger from the boiler system to the water in the district heating grid, which consists of well-insulated underground pipes. The temperature of the water in the district heating grid is between 75 and 110 degrees Celsius, depending on the season and weather. The pipeline leads the hot water to the connected houses.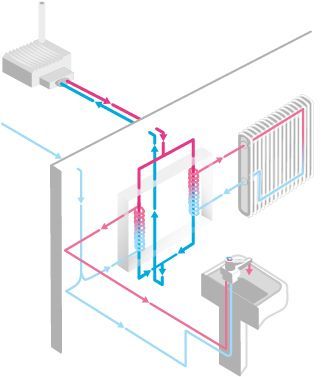 … to the house
In each connected house there is a small district heating junction with two heat exchangers. Through these exchangers, the hot water heats both the house's radiators and its tap water. All of the systems are closed. The water in the different systems – in the thermal power plant, the district heating grid, the house's heating system and the hot tap water – does not mix. The cycle of flowing water is continuous, which ensures that hot water is produced immediately and consistently. This provides an even, pleasant temperature and unlimited access to hot tap water.
… and back to the district heating plant
After the district heating water has heated the house's water supply and has cooled down, it is lead back to the thermal power plant through a return line. Upon its return, it is reheated and directed back out into the district heating grid.
Our district heating facilities
Currently, we have three main facilities that produce district heating and which are located in Malå, Lycksele and Hedensbyn (outside of Skellefteå). We supply district heating to the following areas:
Boliden
Bureå
Burträsk
Byske
Jörn
Kåge
Lycksele
Lövånger
Malå
Norsjö
Robertsfors
Skelleftehamn
Central Skellefteå
Stensele
Storuman
Ursviken
Vindeln
Ånäset
You can also contact the energy advisor in your municipality.
Your district heating system is "Reko"
Reko is a system used in Sweden to rate the quality of different district heating suppliers. The system should strengthen your position as a client and promote the development of sustainable relationships between you and the suppliers.
Skellefteå Kraft has been certified by Reko since 2006, which means that customers are given more insight into the district heating operations.
As we are certified by Reko we must prepare an annual report regarding our operations, a so called transparency report. You can find it here.
As a district heating customer you are invited to an information meeting each year, where we tell you about the past year and discuss current issues. You are also offered the opportunity to ask us questions about operation and maintenance. If you cannot attend the meeting, you can read about it on our website. Here we publish information on the issues we discussed.
What does Reko mean for our customers?
Reko certification means that our customers can require us to follow Reko's district heating regulations. If you feel that we are not complying with these regulations, you can report us to Reko's Quality Assurance Board.